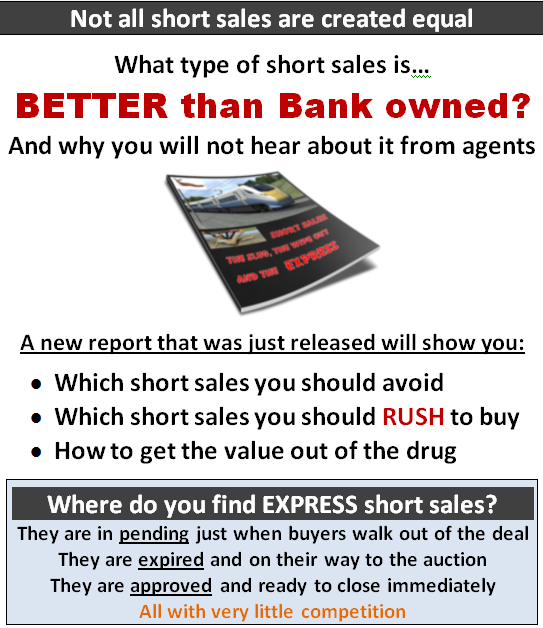 Don't listen to us! Read what other people say about us at:
http://nwforeclosurenetwork.com/landing/testimonials/
Don't listen to what we say. Here is what buyers says about us…
"We were the only bidders"
"The condo price dropped by 35% in one drop, but the price reduction wasn't recorded yet on the RMLS, and so we were the only bidders and got it for a super low price. A few weeks later we rented it and now we're enjoying positive cash flow. It was very exciting."
Larry Jacobson, Vancouver
"That is rare, my friend. I'm still dumbfounded"
The day I was suppose to close on my condo deal when you identified a better deal and suggested to back out of a good deal for the sake of having a better one, I thought you are joking. I was ready to sign. I think you were ready to get your commission and then… Never thought an agent can do such things. Never thought humans can do such things. You treated my transaction as if it was yours. That is rare, my friend. I'm still dumbfounded.
Israel Moshkovits, Tel Yosef
"This all took less than 24 hours. This is unbelievable to us but it's true"
"We were just about full of looking for home after about 2 years. We had several times of waiting for something to close. There were many disappointments. Then I was looking again at NWForeclosureNetwork.com listings. I went to their office the next morning. I showed them what we were looking for and by that afternoon I got a call. We went to look at the home and early evening signed on it. It's beautiful. This all took less than 24 hours. This is unbelievable to us but it's true. I am so thankful to all the People that put this together for us. This has now been great experience. If you need a home these people know how to get one for you at a great price. They get the reduced price before they even appear on the computer. Ours dropped $21,000 and it never did show that drop any place. But they found it. I hope everyone had the same experience we did."
Steve & Sherry Franks, La Center

"I purchased two houses, both well below market value"
"I first met Eran when he showed me a house that I called on from Craigslist. From that first meeting he impressed me with his knowledge and insight of the foreclosed properties in the area. With his help, I'd purchased two houses, both well below market value. On one of the houses, Eran encouraged me to make an offer $5,000 below what I had planned, and the bank accepted the offer the same morning."
Dick Cherry, Portland
"You have been amazing"
"When we need an estate agent — you are most definitely the one we will count on and call. You have been amazing, lovely to work with, and we are so very thankful for you! We will definitely recommend you to anyone we know who wants a real estate agent!"
"We were especially thankful that you never pressured us about buying or not buying, you were discrete and allowed my husband and I plenty of space to think. We always felt you had our best interests at heart, in fact, we felt you were sincerely excited for us when we would see something we liked! We also never felt not full of your own agenda, but just there for us, to help us find our dream place. Thank you so much."
"Lots of love!"
June Halliday, Vancouver

"His honesty was greatly appreciated even when it wasn't exactly what I wanted to hear…."
"Eran's sense of humor and flexibility to accommodate my frugalness and uncertainty. Very helpful in understanding the process of home buying process. Honest about the pitfalls and unexpected hurdles of short sales. Also his honesty was greatly appreciated even when it wasn't exactly what I wanted to hear… it was the truth and to the best of his knowledge."
Lisa Rose-Dunn, Camas

"You've been an absolute pleasure to work with"
"I want to thank you for all of your help. You've been an absolute pleasure to work with, and I appreciate you guiding me through the process. I hope we can work together again soon, and I'll certainly refer you should the opportunity present itself."
Kevin Turner, Ridgefield
"My home for a great price"
"Extremely satisfied and pleased from Eran's patience and knowledge of the process of buying a home and getting my home for a great price."
Brian Pelster and Dianna McGowan, Vancouver
"Purchased a house for a minimum price"
"I got better understanding of what it takes to close a foreclosed property and purchased a house for a minimum price."
Michael Montgomery, Ridgefield
"Fantastic!"
"Fantastic! Eran had a lot of communication with me. That says a lot."
Ryan Lingle, Camas
"Everyone we worked with was very friendly and helpful"
"We felt very satisfied with our overall experience, and everyone we worked with was very friendly and helpful. We never felt pressured during the buying process. Being our first house, we were unsure of many of the steps involved in buying one. Everyone was friendly, patient with us, and were always willing to answer any questions that we had. The most important benefit is our new house, and a place to start our family! We also learned a lot along the way about the process of buying a house."
Daniel and Lindsey Mroz, Vancouver
"He's the best!"
Eran Upfeld was our selling agent and as always did a terrific job. He is always very prompt in showing us properties, gathering information that may not be on the listing and following through on getting the offer presented immediately and always stays in touch with us. I believe the ForeclosureGeeks have much more information than a typical real estate agent. We would call Eran again if we decided to purchase another condo or house. He's the best!
Diana Fulps, Camas

"I feel like I got a real value"
Eran was pleasure to work with, he knows the process and is an excellent negotiator. Our process took three months. He never lost patience with me. He got a real feel for what my tastes were and did an excellent job of feeding me properties. I feel like I got a real value.
John Petrusich, Vancouver

"Honest and reliable"
Looking for a home in a desirable area on a budget is not very easy. Eran was very patient with me and did not try to sway my interest on homes I was not interested in. He is honest and reliable. After a while, we did find the right home and due to his experience our offer was accepted.
David Milton, Vancouver

"We ended up getting the house for even less than our original low bid"
Eran is an accomplished negotiator and I'm grateful he's sitting on my side of the table. He located an investment home that interested my husband and me and recommended we offer considerably less than the listed price, identifying the reasons why he thought we would win the bid even though he was relatively sure we would not be the highest bidder. He certainly knows the market! We ended up getting the house for even less than our original low bid. That was an unexpected surprise. We've now owned the house for more than a month and are quite pleased with our investment.
I expect the people I work with to be knowledgeable, honest and responsive to my needs and he is certainly all of those, but what I especially appreciated about Eran was his approach to solving the problems that came up as things went along. It wasn't fun to face the ups and downs while problems were being worked out, but his patience and perseverance brought things to a successful conclusion. He certainly earned his commission! I enjoyed working with Eran and I look forward to working with him again in the future.
Ronnie Jacobson, Vancouver

"Most positive experience we have ever had with a realtor"
First of all I want to say that my our experience with Eran was the most positive experience we have ever had with a realtor. My husband and I started looking for a house for our son's first purchase in March of 2013. We hadn't been involved in the real estate market for some time. We do have a couple of rentals, but those were purchased a long time ago in a completely different type of market.
After spending long tiring days searching on the internet and driving around ALL the neighborhoods we liked we tried a different approach. We contacted a realtor to show us a house. We didn't care for it, but we stayed with that realtor hoping to get a first shot at the homes that were coming on the market. By the time we were informed of the homes we were interested in, they already had a pending or were sold. We were told that most pendings in this market almost aways went ahead with a sale. I did some research on my own on foreclosures as I was told by our realtor that we would not be interested in those because it is usually a lengthy processs that could go on for months.
The website that I contacted lead to a phone call and a process of a whole new way of shopping. It also led to Eran Upfeld. What a relief! We were so tired of the disappointment of having everything our son was interested in being lost or already sold that we were ready to quit. After Eran spent 6 hours with me, my computer, his computer and my husband, we were re energized. That very day Eran took us to look at 3 homes fitting many of the characteristics we were searching for. Neither of those were perfect, but they didn't already have a pending YET!
We continued our search until we found out about a foreclosure that was going on the market for a total of only 3 days. Only 3 days because they were expecting multiple offers. Everyone wanted an old home in a great neighborhood for under $200,000. That was a very competitive market! Eran guided us through the process, helping us to write an offer and even making suggestions in that offer that would benefit our son who was ultimately the one making the purchase. After two days we were told that our offer had been accepted. We were overjoyed for our son. After about 3 weeks into the closing process the bank's appraiser did not appraise the home for the amount we had offered and had approved. That news was devastating as in some instances we would have had to come up with an additional $17,500 to bring the balance of the home down to what the bank would finance. Our son did not have that additional amount. He met with Eran the next morning to sign another offer to the bank for an amount equal to the appraisal and also a copy of the appraisal. To our delight and Eran's, the bank accepted and we got the house for the appraised amount. $17,500. less than what we had offered. Eran took a very personal interest in us and made every possible effort to get the home of our son's dreams. My husband, myself and our son believe it would not have been possible had we not been fortunate to have met up with Eran. He has so much integrity, tenacity, knowledge and feel for his clients that anyone would be lucky to make him a part of such an important endeavor as the purchase of a home. We thank him for his efforts every time we walk into the house! The house closed and we had the keys in 5 1/2 weeks!!!
Mary Eiesland, Ridgefield

"His negotiation skills are impressive. I can totally trust him"
Eran goes above and beyond when it comes to finding good properties and then investigating all aspects to help us make the best decisions. Also, his negotiation skills are impressive. I can totally trust him to give me good information and help me every step of the process.
Sheri Petrusich, Vancouver